BIT is most sought after yet cost-effective Academic Degree (External) Programme from the University of Colombo School of Computing (USCS) since the year 2000 in Sri Lanka.
OpenArc Campus has been a pioneer in conducting lectures for the BIT degree programme. From the inception, OpenArc Campus has produced many 1st Class and 2nd Class degree holders, and have guided them towards achieving their full potential as IT professionals.
As the only Approved Partner to the prestigious University of Colombo who has been offering BIT from the inception (in 2000), we are pleased to give the details of the next intake. By joining OpenArc Campus, you will have the opportunity of sharing thirty two (32) years of Software Development Experience of OpenArc. (visit www.openarc.lk). Please read the attached brochure for further information.
Why should you study BIT at OpenArc Campus?
• Approved partner of UCSC
• Printed text books
• Supported by Learning Management System (LMS) of OpenArc Campus
• Internships and employment opportunities
• For on-line students, recordings and three (03) Open Days for discussion of problems with the teachers
OpenArc Students excel at the BIT examinations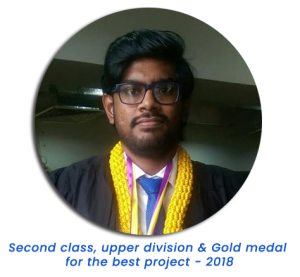 Janath Manthila
Started doing BIT at OperArc Campus after my A/Ls has been one of the best decisions I have taken so far. It has opened up lot of opportunities and new chapters in learning which has been a great strength in achieving a 2nd class upper with a gold medal in BIT degree programme. Also, the guidance and network have helped me a lot throughout my journey as a software engineer in the industry for more than 2 years.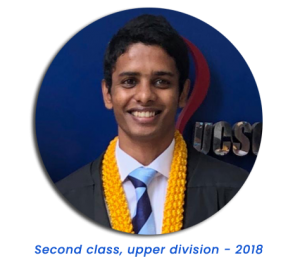 Ruvinda Ranasinghe
I am extremely glad to have chosen OpenArc Campus to pursue my BIT Degree from the University of Colombo School of Computing.
OpenArc's ample resources, vast library, flexibility and training opportunities were truly a boon. The lecturers were well versed in their subjects and took painstaking interest to ensure that concepts were grasped by each and every student. The vibrant social environment of the campus ensured a well-rounded experience. The combination of all these factors helped me complete my degree with a 2nd Upper Class. I am ever grateful to OpenArc for laying the foundation for my success as a software engineer.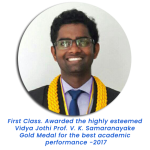 Prasith Lakshan
I studied at OpenArc Campus for the UCSC BIT degree full time. OpenArc provided us with industrial training and exposure along with the course which was a great help for my career development. All the lecturers were very supportive throughout the course. There were many extracurricular activities organized by OpenArc and by the students themselves which bonded students from different courses and batches. I recommend OpenArc campus to anyone who wants to complete their degree successfully along with lot of industrial experience and social skills as well.
LEVEL I Courses

EN1106-Introductory Mathematics

IT1106-Information Systems

IT1306-Free and Open Source Software for Personal Computing

IT1406-Introduction to Programming

EN2106-Communication Skills I

IT2106-Mathematics for Computing I

IT2206-Fundamentals of Software Engineering

IT2406-Web Application Development I

LEVEL II Courses

EN3106-Communication Skills II

IT3106-Object Oriented Analysis & Design

IT3206-Data Structures and Algorithms

IT3306-Data Management Systems

IT3406-Web Application Development II

IT4106-User Experience Design

IT4206-Enterprise Application Development

IT4306-Information Technology Project Management

IT4406-Agile Software Development

LEVEL III Courses

EN5106-Fundamentals of Management & Entrepreneurship

IT5106-Software Development Project

IT5206-Professional Practice

IT5306-Principles of Information Security

IT5406-Systems & Network Administration

IT5506-e-Business Technologies

EN6106-Advanced Concepts in Information Technology

IT6206-Software Quality Assurance

IT6306-Application Development for Mobile Environments

IT6406-Network Security and Audit

IT6506-Mathematics for Computing II